Nature's Heart Superfoods Organic Cacao Powder (567g)
£6.59
Units Sold: 0
12 in stock
Nature's Heart Bags
We're a family business!
Thanks to their father who ran a vegetable-drying business, brothers David, Raul and Daniel learnt from a young age, to preserve the fresh taste of the tropical fruits growing in the fertile foothills of the Andes.
The brothers recognised the uniqueness of the tasty and nutrient- rich goldenberry grown in their native land. Inspired, they sought to share this fruit with the rest of the world and in 2005, Nature's Heart was born.
They had always dreamt of building a sustainable business that has a purpose, therefore they decided to train and empower many local growers in their communities to farm the berry in return for a regular and fair income...
How have we grown?
Since then, the business has blossomed. Nature's Heart now offers not only goldenberries, but a whole range of natural products in Latin America and beyond.
In 2012 Nature's Heart launched in the UK offering a full range of superfood ingredients and we now also offer a range of delicious snacks with exciting flavour combinations that we're really proud of.
If you haven't tried our chocolate coated goldenberries yet, then we really think you're missing out!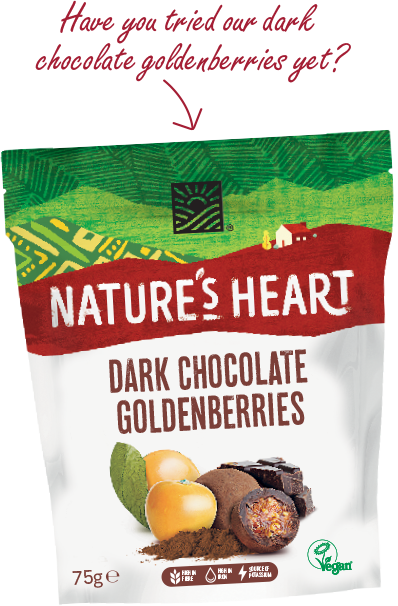 Where are we heading?
As we grow, our mission is to continue finding ways of helping our communities, so in 2020 we began a unique partnership with UK charity Fareshare.
While we're constantly challenging ourselves to look to the future, our original vision will always inspire us. We are proud of our story and our heritage, but for us, this is just the beginning.
Zebra Shipping
We like to make your delivery as simple, but effective as possible for you, so we have a number of delivery options - which you will be shown on the Checkout Page, after having entered your Post Code - you will see the eligible Shipping options you can select, to complete your order with Zebra - Plant Based Supermarket!
DELIVERY SERVICES
1. United Kingdom Next Day Delivery - Courier Shipping by DPD - FREE over £70
We provide DPD Next Day Delivery Service, as well as DPD's Saturday and Sunday Delivery services across the UK. Please note, we do not deliver on Sunday, so if your order Next Day Delivery on a Sunday, it will be shipped on Monday for Tuesday delivery. You can track your order from the Orders tab of your Account Page, after having competed an order and creating and logging into your account. 
2. London-Only Same-Day and 48h Delivery Options
As we are based in Central London, we offer our 100% electric, refrigerated van delivery service. At your Checkout Page, after entering your delivery post code you will see the option of London delivery, or DPD Delivery. Select the option you feel most suitable. 
FREQUENTLY ASKED DELIVERY QUESTIONS
Select Your Ideal Delivery Date 
Also at the Checkout Page we offer a free delivery date selection tool, where you can easily select the date you would like to your order to be delivered on. 
Track Your Order After Completion
After placing your order, you can find package Parcel Tracking details from the Orders tab of your Account Page, after creating and logging into your account.
 Create an Account before making an Order